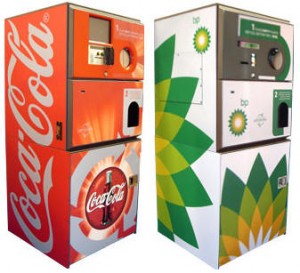 This one time my best mate Scott Newton and I raided all the rubbish bins within a 4 block radius of a "Camalco Cash-For-Cans" machine.
The year was 1988 and this "Camalco Cash-For-Cans" vending machine stood outside the BP station at 1275 Amohau Street, Rotorua (the BP station is no longer there).
The principle was simple. You placed a aluminium can into the slot, closed the door, listened to the crushing noice, and then the prize wheel would spin just like on a pokkie's machine in a Casino.
You could either win:
Nothing
A can of Coke
A Cadbury Dairy Milk chocolate bar
Or a small bag of plain Bluebird chips
But the thing is, we were winning something every 4 cans!
No wonder the machine was in place for only a few months – they must have been losing money hand over fist.
That's why we spent most of our weekends fishing coke cans and beer cans out of rubbish bins and dumpsters behind bars.
Yes we got dirty, yes we got old beer on our shoes, but we ate like kings!