This one time I burst my eardrum on a hydroslide and it hurt like hell.
(Also known as "perforated eardrum" or "ruptured eardrum")
I was careening down the hydroslide at Waimarino Adventure Park during a Christmas party at work – head first, on a hydroslide mat.
The hydroslide ends with a 1.5 metre drop into the river.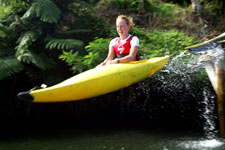 As I was in mid-air I turned my head to the right just before I hit the water (foolish!).
The water shot into my ear at high velocity, I heard a "BANG!!" as I entered the water.
Thank god I was wearing a life-jacket because when I bobbed back to the surface I was in such pain I couldn't even doggy-paddle.
The world was spinning. It felt like someone was pushing on my head to try and dunk me back into the water.
All I could do was hold my head in my hands and try not to spew.
I yelled to one of my workmates for help, thankfully he was close by on the river bank.
I'm known for my pranks and office shenanigans but thank goodness he took me seriously and jumped in immediately to rescue me.
Perhaps it was the blood that was trickling from my ear that told him I was serious.
Another workmate jumped in too (he's a part-time surf lifesaver) and they pulled me to the bank.
It took about 15 minutes for the vertigo to subside to the point where I could walk.   But I still felt too sick to eat the huge BBQ dinner that was now ready to eat. I also have a reputation for a big appetite – especially for free food – so it was sad to let the team down on that one.
A trip to the A&E confirmed a perforated eardrum.  But thankfully I healed fast and there was no permanent damage.
A few months later I was in the surf when I turned my head at just the wrong moment when a wave was crashing down on me and "BANG!" I burst it again!
I stumbled back to my wife on the beach holding my head.  I still felt sick this time, but the perforation must have been very small because I recovered in 10 minutes and didn't feel the need to see a doctor this time.
To prevent this from happening again I always tuck my chin and and "head-butt" waves.  It works. Try it.